Galapagos/Amazon jungle tours
Amazon R/T flight to Coca-Sacha Lodge resort.
Galapagos and Amazon jungle.Land Based Diving from Puerto Ayora-Santa Cruz Island.
ACADEMY BAY
Red mangrove hotel-Academy Bay
This is the bay of Puerto Ayora on Santa Cruz Island with 4 dive sites all within 20 minutes from our base by boat. Three of the sites are generally calm with little current; ideal for students or novices. At the other site, the dives can be a little more complicated if there is a current so they are suitable for intermediate or expert divers. Frolic with sea lions or listen as the damselfish munches away at its algae farm. You may also see marine iguanas, rays, and even sharks all just outside your hotel's door!
SANTA FE ISLAND This island is a solid structure of basaltic lava rocks about an hour away from our base. The 4 dive sites here generally have excellent visibility and mild currents, making these sites ideal for novices. At the same time, the animals and topography (including a spectacular arch) make them interesting for intermediates and experts. We can see stingrays, eagle rays, garden eels, turtles, sea lion colonies, morays, pelagic fish, and maybe white tip reef sharks and/or hammerhead sharks.

FLOREANA ISLAND The island of Floreana is about 90 minutes south from our dive base. There are 9 dive sites here with generally calm waters. On the occasion that we do find strong currents, we can quickly move to another site, which makes Floreana ideal for all levels of divers. This site is one of the best in the central islands to see significant coral colonies, such as pebble coral and endemic black coral. You might encounter baby birds as they make unsuccessful attempts learning to fly. You may look on as barber fish clean sea turtles of parasites. Floreana is also one of the best sites to dive with sea lions. If that isn't enough there is the enticing gauntlet of sea horses, stingrays, eagle rays, turtles, long nose hawk fish, barracudas, pelagic fish, white tip reef sharks, Galapagos sharks, and hammerhead sharks

. COUSINS ROCK An islet with a wall dropping from the surface into the deepest depths, Cousins Rock is home to a big area of sloping rock plates known as a "Planchonal" about two hours from our base. There can be strong currents here that separate the productive and unproductive sides of the dive site. Cousins' is full of spectacular endemic young black corals and other sightings may include frogfish, fur seals, sea turtles, sea horses, and usually, hammerhead sharks.
DAPHNE This is an isolated offshore tuff cone with vertical walls all around it about one hour from our dive base. The main dive site is a shelf of boulders at about 60 feet and the diving can be difficult depending on the currents and surge. We usually see many Galapagos sharks here, some schools of pelagic fish, and multicolored sponges on the rock wall
NORTH SEYMOUR ISLAND North Seymour is an uplifted island of lava flow about 90 minutes north of our dive base. There are 5 dive sites suitable for all levels of divers, although sometimes the currents can be strong. These sites have the most different species per square foot of sandy bottom. We can see cleaning behavior, a large garden eel colony, sea turtles, sea lions, fur seals, eagle rays, yellow-tailed grunts, big-eyed jack, and frequently white tip reef sharks and hammerheads. Occasionally, Galapagos sharks can also be seen here
GORDON ROCKS
In Galapagos, this tuff cone formation is a world famous dive site about one hour from our base. There are 4 dive sites in the area, but only two are for novices. The other two sites are for intermediates and experts because there can be strong currents and surge. The Gordon Rocks dive sites are mostly walls with a deep bottom. Blend in and blow few bubbles and you may be blessed with a hammerhead sighting! Hammerhead sharks are the main attraction of Gordon Rocks, where they often conglomerate in large schools. You won't be able to stop looking at this aquarium as you're likely to also see reef fish, large pelagic fish, golden rays, stingrays, eagle rays, turtles, morays.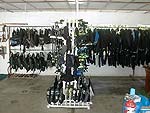 diving equipment grounds.
Amazon-jungle-Galapagos diving packages:
These Packages prices are based on double accomodations
INCLUDES;
4 days Sacha Lodge Amazon resort and 5 days Galapagos diving Package.
Quito-Ecuador arrival, transfers to 4 star Hotel, overnight, transfers to Airport, round trip airfare to Sacha Lodge resort, 4 days/3nights Amazon Jungle tour,return to Quito, transfer to Hotel for overnight Hotel, transfer to airport for flight to Galapagos,Quito/Glpgs/Quito airfare. Santa Cruz Island Tourist class Hotel breakfast and lunch box, optional dinner, 5days/4nights diving tour; 2 dives per day; return and transfer to 4 star Hotel in Quito overnight, transfer to Airport back to home city.
Land Based Diving from Puerto Ayora-Santa Cruz Island-Galapagos Prices based in double occupancy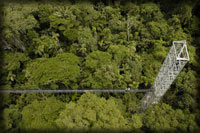 Price for 2012 $ 4.480
Day by day Itinerary
11 DAYS / 10 NIGHTS , based with 4 star Hotel in Quito,Tourist Hotel in Santa Cruz island.
Day 01: Arrival in Quito-Ecuador, transfer and check in at hotel. Upon early arrival, city tours can be arranged.
:Day 02-05 Transfer to airport for domestic 45 minutes flight to Coca Port Town , from where you will be taken in a motorized canoe 2.5 hrs. down the Napo river to Sacha Lodge resort in the jungle, tour in the afternoon,dinner.
Day 03-04: Sacha Ladge tour program.
Day 05: Breakfast, early morning tour. return to Quito,transfer to Hotel, overnight.
Day 06: Early morning transfer to airport for flight to Baltra Island, transfer to Santa Cruz, reception at Hotel,lunch,afternoon check-out dive in Academy Bay, dinner on your own, you can choose among the many seafood restaurants in Town.
Day 07: Breakfast, 2 easy dives in Academy Bay , lunch at hotel, shopping.
Day 08: Breakfast, 2 dives at Santa Fe Island , lunch, return to hotel.
Day 09: Breakfast, 2 dives at Gordon Rocks, lunch, return to hotel.
Day 10: Breakfast, 06:00 Breakfast and Transfer to Baltra airport for flight back to Quito 16:00 Transfer to Quito Hotel- overnight .
Day 11, Breakfast 08:30 transfer to Quito Airport for city home flight
------------------------------------------
Sacha Lodge Amazon departures for 4 days are only on fridays, for 5 days departures are only Mondays,you can choose together with either 5 or 7 days Galapagos land-based diving trips as a whole package, the great advantage with the diving is that you can choose the dates, you don't need to book a diving Yacht many months in advance.
Excluded in tour cost are: - International round-trip airfare travel to and from Ecuador - Entrance fee to Galapagos National Park (100 USD) Transfer from Baltra Airport to Santa Cruz. - Hiking boots and other necessary sports gear - Lunches and dinners in Quito-mainland Dinner in Santa Cruz (unless otherwise specified) - Personal expenses (tips and gratuities, alcoholic beverages, medical or travel insurance, laundry, airport taxes, etc.).
Diving Services
● The packages include: accommodation, breakfast and lunch (dinner option with a supplement), complete scuba gear, dive boat, divemaster guides, and 2 daily dives.
● Itineraries can change depending on meteorological conditions, level and experience of divers.
●We offer a detailed briefing prior to each dive and a checkout dive to all new passengers in a calm environment. Guides are locals, trained in our dive center and have a minimum of 3 years experience. We provide a guide for groups of 4-5 passengers depending on their training level.
For introductory dives the maximum depth is 12meters/40feet and it is required that a guide accompany one introductory diver at a time.
● The depths and bottom time are planned and established according to PADI's norms and depend on the divers' level of experience. The maximum depth of the dives varies between 15mt (50 feet) and 30mt (100 feet), the maximum bottom time is of one tour and the minimum surface interval is one tour. ● Each diver will have to present his/her dive certification (PADI, NAUI, SSI, ACUC, DIVA, CMAS, FEDAS, YMCA, DEWA, ETC...) and logbook. Also, the divers will have to sign the release of responsibility and expressed assumption of risk. For minors; their parents or legal guardians will have to sign (minimum age to dive is 12 years old).
● To practice recreational dive activities the diver must be in good health and not under the influence of alcohol or drugs. Passengers who declare health problems will need a doctor's authorization permitting them to dive. ● Our daily dive tours included 2 dives (except introductory y night dive), two dives, dive boat, divemaster guides, diving gear (complete wetsuit, regulator with octopus, BCD, mask, snorkel, fins, booties, gloves, scuba tuba, tanks and weight belt), lunch (Does not include lunch in Academy Bay). Our dive boat complies with the Ecuadorian Marine security prerequisites and norms. Additionally, our first aid kit includes 2 oxygen tanks (one hour's duration). We are affiliated to the hyperbaric chamber; our passengers are covered 80% specifically for dive accidents.