PO BOX 312
Hallandale, FL
33008 USA
Toll free
1 800 426 0802
Telefax
954 967 2547
We would love to hear from you. Please contact us with any questions you may have about our Galapagos diving tours,Ecuador tours ,or Amazon jungle trips.
e-mail: Contact Us
US Toll Free # 1-800-426-0802
Outside US.or Canada 1-305-332-3099 Telefax 954 967 2547--
Office Hours: Monday to Saturday, 09:00 AM to 19:00 PM EST
About Us
Galapagos Divers, with headquarters in Miami Florida,and branches in Quito-Ecuador,same in Santa Cruz Island-Galapagos. Especializing not only in diving expeditions, but land tours, within these unique islands and mainland Ecuador. The owner, born in Quito-Ecuador, with a very vast experience in the Galapagos as a Naturalist Dive Guide, and as an offshore commercial diver, since 1980. We are proud of working with other fine travel Companies , offering you the most knowledgeable tours from Miami, our specialty are the upmost diving and customized naturalist private trips.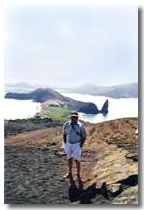 Welcomes you to the most diverse,unique, Galapagos diving tours, for individuals or groups of any size, to these exciting Islands of Ecuador, Located 600 miles off the mainland Ecuador.
Besides our Galapagos diving tours and Ecuador also features the Andean Mountains, the Amazon rainforest and the Coastal region, for your family custom expeditions.
Take our online tour, of the best diving sites, within these unique islands, see the marine Fauna with your own experiences, one of a lifetime.
As you search a trip to the islands you will realize that the naturalist guide and the boat you select are important factors in making your trip unforgettable, for making all the arrangements for your next trip to the Galapagos Islands.
Remember, there are other possibilities while you are in Ecuador, you can visit the colonial city of Quito and its surroundings, visit the andean cities, or add to an extension to the Amazon jungle , the magnificent encounter with this immense tropical rain forest, trip that will take you out to the most unique flora and fauna found on the planet.
In Galapagos, we have customized tour for divers and non-divers, the waters of the islands are famed for the nutrient upwelling, and unusual sea life you won't find anywhere else in the world.
The Galapagos Archipelago is a unique world inheritage. since Charles Darwin's famous voyage, it has provided a wealth of information and inspiration to people throughout the world, the Enchanted islands continue to play and important role in our understanding of life on earth.
Galapagos Divers Inc.
PO.BOX 312 Hallandale FL 33008
Miami local # 1-305-332-3099
Toll Free:1-800-4260802
Telefax: 954-967-2547
PO BOX 312 Hallandale Fl 33008 USA
Branch Offices in Quito and Santa Cruz Island-Galapagos-Ecuador

International callers 001-305-332 3099